I have just written a book about secret agents in Occupied Europe in WW2.  It costs £10 including p&p and a donation of £5 from each sale will go to the Naional Union of Journalists charity.  A copy can be had by sending an email to peter.deeley357@btinternet.com with your address.  Payment can be made AFTER receiving the book by cheque or postal order (do they still exist?) OR a £10 note in a scruffy envelope to 2, Knapton's Croft, Lower Heyford OX25 5NRDACHAU AVENGED is the story of two SOE agents who married and were then sent 'into the field' to fight the enemy.   He, a Netherlander, returned a hero.  She was executed in Dachau. Yes, it's a tear jerker!The Journalists charity was founded by Charles Dckens and was long known as the Newspaper Press Fund.   As an office boy I had to contribute a shilling a week out of my 30/- wages to it. (It was a closed union shop.) It helps journalists who hit hard times (like now!) and has a home when some can retire to in old age.  (No, I'm not currying favour at almost 85 to get on the short list.)  Hope you can help. 
Peter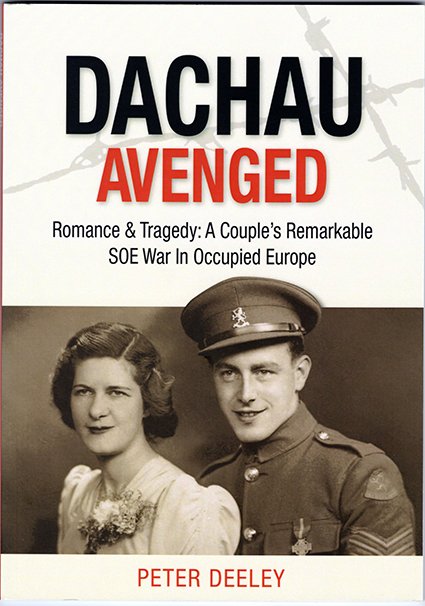 They were lovers, training to be agents at secret 'war schools' in the Oxfordshire countryside. Wed in London in 1943 their honeymoon was a 72 hour leave pass, the extent of their married life. They parted and flew into Occupied Europe to join the Resistance.
Jaap Beekman returned from Holland a decorated hero, Yolanda Beekman died at the hands of the Gestapo in Dachau. Her fate remained a mystery for almost two years as her husband and her mother badgered Special Operations Executive (SOE) to tell them the awful truth.
Many of Japan's Dutch colleagues were caught because German spy catcher Hermann Giskes ran a deadly counter espionage operation, tricking SOE personnel into thinking messages he composed came from their agents.
After being captured Giskes astounded his interrogators describing how after the Germans occupied France in 1940 he uncovered a ring of Allied helpers, both British and French, among Parisian high society.